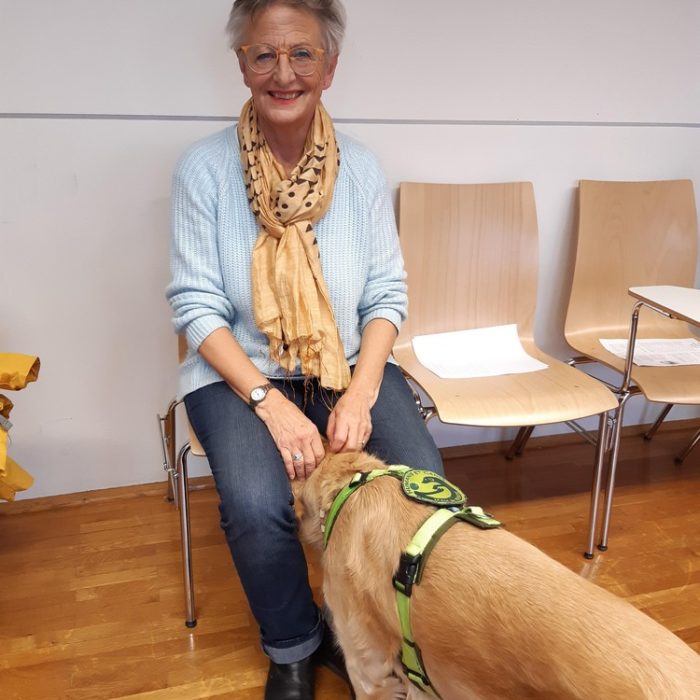 On December 19th Mrs Signitzer visited us with her dog Kyla. The whole class met her in the music hall. We took the song "I've been looking for freedom" and reworked the lyrics. She gave her a small gift, so she will always remember us. It was an album with our names, a picture of everyone and what we wish her. We talked about our vacation, and what we now do at school.
Afterwards we talked for a while and we decided to have a knitting afternoon with her every Tuesday after class. This lesson was really special and we took a group picture to capture it.
Thank you, Mrs Signitzer, for being such a lovely and amazing teacher.
Your English class 2a
by Lisa and Kerstin 2a (English group of Mag. Markus Asen)
 ————-
On December 19th Mrs. Signitzer and Kayla visited us one last time before her retirement. We had a funny and also a little bit sad "English lesson" with her and Mr. Asen. We sang a self-written song about our great time with her for her. We gave her a book, in which everyone of our English group designed one personal page with wishes as a memories for her. She was very happy about this lovely surprise. We talked with her what we did in the winter holidays and how we are. She promised us that she will teach us how to knit and that she will come to school every Tuesday for a few weeks to knit with us. After a short lesson we said goodbye to her and wished her all the best for her retirement.
by Miriam Deußl, Antonia Elsenhuber and Chiara Neumayr (2A) (English group of Mag. Markus Asen)